In the bustling metropolis of Toronto, a city known for its rich history, cultural diversity, and thriving business landscape, it's no wonder that local businesses have become central in the community. These enterprises, deeply ingrained in the city's neighbourhoods, have grown to represent the very essence of Toronto's identity.
When it comes to the art of gift-giving, there exists a compelling and resonating argument in favour of choosing local gift baskets in Toronto over their mass-produced counterparts. These carefully curated baskets not only encapsulate the vibrant spirit of the city but also offer a tangible connection to its many offerings and the heartwarming stories of its artisans. Here are 12 compelling reasons that underscore the significance of supporting locals and the distinct charm they bring to the world of gifting.
1. Uniquely Toronto Flavors
Local gift baskets in Toronto invite recipients to savour the city's unique culinary tapestry. They encapsulate Toronto's gastronomic treasures, featuring artisanal chocolates that melt in your mouth, locally roasted coffee beans that release a robust aroma, and maple syrup from nearby farms that exude a sweet, comforting essence. Each basket becomes a flavorful tribute to the city's spirit and a celebration of its diverse and mouthwatering culinary offerings.
2. Support Local Artisans
These gift baskets are not just assortments of products. They also showcase the meticulous craftsmanship of talented local artisans and the entrepreneurial spirit of small businesses. When you opt for these local baskets, you become an active contributor to the local economy. Your choice sustains these artisans and entrepreneurs, enabling them to flourish and continue creating exceptional, handcrafted products that define the heart and soul of the community. Essentially, your selection of local gift baskets isn't merely a gift. It's a powerful statement of support for the artisans and businesses that make your city unique and vibrant.
3. Personalized Touch
Local businesses elevate the act of gift-giving to an art form by infusing it with a personal touch. The magic lies in their capacity to mould each basket according to the recipient's preferences, weaving a narrative of care and consideration into every selection. These bespoke gifts transcend the ordinary, delivering not just material items but a heartfelt connection between the giver and receiver.
4. Reduce Environmental Impact
Opting for local gift baskets is an environmentally conscious choice. Sourcing products from nearby businesses reduces the carbon emissions generated by long-distance shipping. This decision helps mitigate the adverse effects of transportation-related pollution, making a tangible contribution to a greener and more sustainable planet.
5. Quick and Convenient Delivery
When you opt for local gift basket providers in Toronto, you tap into the convenience of swift and dependable delivery services. This means that your meticulously selected gift will reach its destination on time. The assurance of punctuality not only underscores your commitment but also amplifies the joy of receiving a well-timed and considerate present, leaving a lasting impression that speaks volumes about your care and attention to detail.
6. Connect with the Community
Supporting local businesses is more than just commerce. It's a way to connect with your neighbours, fostering a profound sense of belonging. By choosing local, you strengthen the bonds that make this metropolitan city a place to call home. It's a testament to a shared commitment to growth and prosperity, an investment in the very essence of Toronto's identity, and a declaration of your collective determination to see it flourish.
7. Discover Hidden Gems
Local gift baskets often unveil hidden gems and unique products that might remain undiscovered otherwise. In each thoughtfully curated gift basket, you are also on an adventure through the lesser-known corners of Toronto, discovering artisanal creations, culinary delights, and handcrafted wonders that celebrate the city.
8. Tailored for Occasions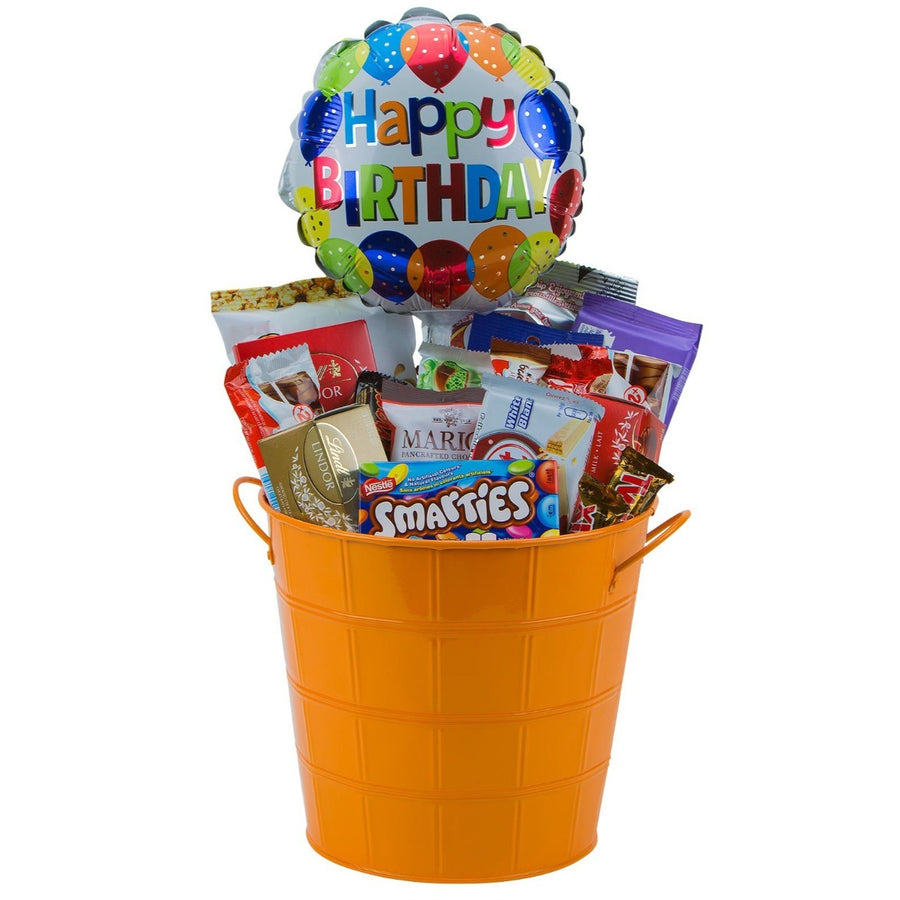 Local gift baskets offer unparalleled versatility, seamlessly adapting to the unique demands of any occasion. Whether it's a birthday chocolate gift basket, an anniversary, or a corporate event, these curated gifts are the ultimate expression of care and consideration. With their adaptability, you can be confident that your gift will always strike the perfect chord, making each occasion a memorable and specialized experience for both the giver and the recipient.
9. Quality Assurance
Local businesses uphold a strong commitment to uncompromising quality. When opting for local gift baskets, rest assured you're choosing nothing short of the absolute best. These artisans and entrepreneurs take great care in curating products. By selecting local, it's a guarantee that your gesture is a symbol of premium quality and craftsmanship of Toronto's local talent, making your present all the more meaningful and impactful.
10. Keeping Toronto Unique
Choosing local gift baskets is a powerful act that contributes to the preservation of Toronto's distinctive identity. It reinforces the city's unique character, safeguarding its status as a dynamic, diverse, and culturally rich destination. With every locally sourced product, these gift baskets celebrate the city's enduring charm and vibrant spirit. Each gift ensures that Toronto maintains its position as an extraordinary and irreplaceable place, cherished for its authenticity and cultural richness.
Top 5 Local Gift Basket Ideas
Toronto Gourmet Delights Basket 
This delectable gift basket captures the essence of Toronto's culinary scene. It can include locally sourced artisanal cheeses, a selection of fine wines from Ontario's vineyards, a variety of fresh-baked bread, and a jar of Toronto-made honey. It's the perfect choice for food enthusiasts who want to savour the city's flavours.
Toronto Spa Retreat Basket 
Give the gift of relaxation and self-care. Treat your loved one to a relaxing spa experience with a locally crafted basket that features handmade bath bombs, soothing lavender essential oils, scented candles from a Toronto boutique, and a plush, locally-made bathrobe.
Toronto Artisanal Coffee Lover's Basket 
For coffee connoisseurs, this basket is a dream come true. Include a collection of freshly roasted beans from Toronto's top coffee roasters, a set of handcrafted ceramic mugs made by local artisans, and gourmet coffee syrups from a neighbourhood cafe.
Toronto Wellness and Fitness Basket 
Encourage a healthy lifestyle with this wellness-focused gift basket. It may contain a 1-month membership to a local fitness studio, a variety of locally made protein bars and health snacks, a reusable water bottle, and a fitness tracker. Perfect for those looking to jumpstart their well-being.
Toronto Arts and Crafts Exploration Basket

 
Ignite creativity with this artistic gift basket. It includes an assortment of art supplies from local art shops, a canvas and paint set, a handmade sketchbook, and tickets to a local art exhibition. Ideal for aspiring artists and anyone who appreciates the vibrant arts scene in Toronto.
When you choose local gift baskets in Toronto, you're not just giving a gift, but you are also making a statement. You are supporting the local economy, celebrating the city's culture, and connecting with your community. It's a choice that not only brings joy to the recipient but also contributes to the growth and prosperity of Toronto.
Make your next gift a meaningful one. Choose local gift baskets in Toronto and experience the difference. To order your custom gift basket today, call Alexandria Gift Basket at (416) 666-8361 and enjoy our same-day delivery within the Greater Toronto Area. Support your community, celebrate Toronto's uniqueness, and give the gift of local goodness. It's a choice you won't regret.