SEND A GIFT THAT MATTERS - ORDER PREMIUM GIFT BASKETS IN SCARBOROUGH TODAY!
EXPERIENCE FREE GIFT BASKET DELIVERY IN SCARBOROUGH
Right now, Alexandria Gift Baskets is offering customers free standard gift basket delivery in Scarborough and throughout the Greater Toronto Area. Our free service includes all gift baskets, regardless of the price, for deliveries to Toronto, Mississauga, Brampton, North York, EastYork, York, Etobicoke and Thornhill. For other GTA areas, we offer competitive delivery prices. If you would like more information, please feel free to speak to our staff.
Please note that Alexandria Gift Baskets has been issued a Liquor Delivery Service License, allowing us to deliver alcohol to our customers. We will not deliver any gift baskets containing wine, beer, champagne or liquor to individuals who are not of legal drinking age (19+ province of Ontario).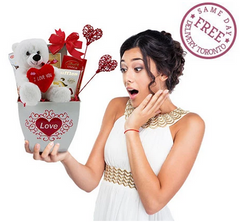 SAME-DAY DELIVERY IN SCARBOROUGH
Please note that we do not offer a same-day delivery service during the pre-holiday schedule.  

The standard arrival time of our gift baskets is between 1 to 3 business days (this does not include holidays). We can send our packages throughout the Province of Ontario. We use standard ground shipping such as Canada Post, FedEx and UPS. 

When checking out, you will be greeted with a final delivery cost that sums up the price of your gift basket and the delivery fee. Please note that some gift baskets may require a longer ship-out and/or delivery time frame, especially during the holiday season (such as Christmas or Easter) or due to weather conditions (such as winter).
SEND THE PERFECT GIFT WITH OUR GIFT BASKETS IN SCARBOROUGH
There is no gift better than one that comes from the heart. At Alexandria Gift Baskets, we can make it happen. Our staff love nothing more than creating gift baskets that reflect the thoughts and feelings of our customers, ensuring that when they deliver their gift baskets, their partners, friends, family, or co-worker will love it. 

You have your choice of a range of amazing gift baskets for all special occasions (anniversaries, weddings and birthdays), holidays (Christmas, Easter and New Year), and special moments (thank you, get well, and sympathies). Whatever gift basket you need, you can find it with us. Explore our collection and place your order today!  
Gift Baskets Toronto Delivery: Unwrapping the Joy of Gifting
Gift-giving is an age-old tradition expressing care and appreciation for our loved ones. There's something uniquely magical about presenting a...
Convenience at Your Doorstep: Gift Basket Delivery in Toronto
Gift-giving is a cherished tradition that brings joy to both the giver and the recipient. Whether it's a birthday, anniversary,...

Toronto Gift Baskets: A Thoughtful Gesture for Every Occasion
Gift-giving is a time-honoured tradition that allows us to express our love, appreciation, and well-wishes to the people we care...