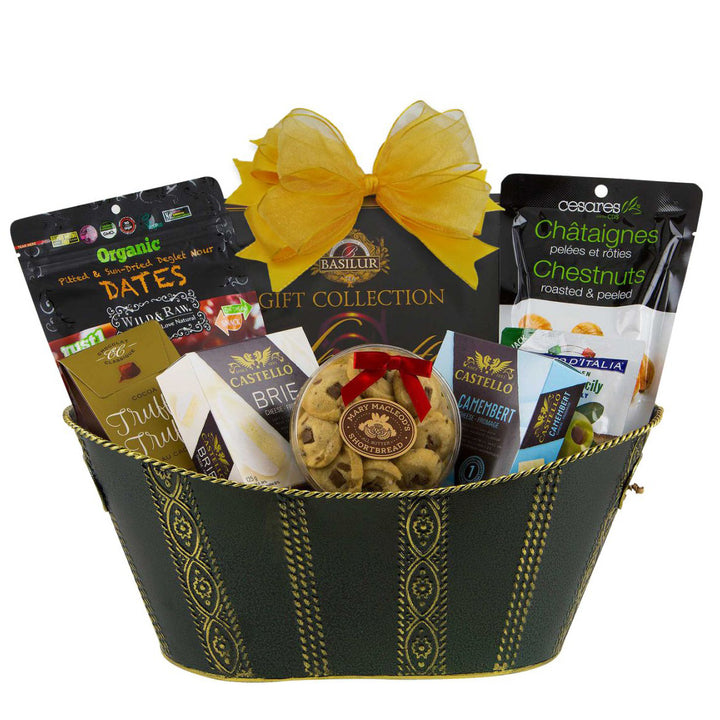 Retirement represents a long-awaited culmination of dedication and hard work. It signifies more than just an end to the daily routine. It means the beginning of countless opportunities for development, discovery, and enjoyment of life. Whether you're the retiree or if you know someone who's going to celebrate a retiree's journey, the desire to make this transition truly special is only natural.
Whether it's a well-planned retirement party or a surprise gathering, having gift baskets in Toronto with same-day delivery adds an element of instant gratification. It means you can transform a regular day into something remarkable with just a few clicks. The retiree can receive your thoughtful gift immediately, making the celebration even more wonderful.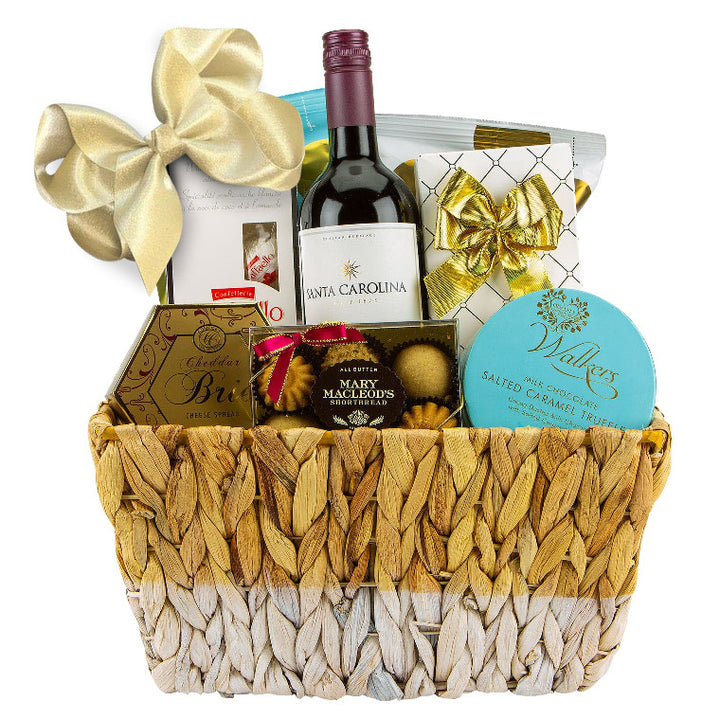 Retirement is not just the end of a career; it's a celebration of a life dedicated to growth and success. Whether it's a colleague, friend, or family member retiring, expressing appreciation for their hard work and achievements is paramount. Gift baskets offer a delightful way to say, "Thank you." These thoughtfully curated presents are a token of appreciation that conveys your gratitude in a tangible and memorable way.
The retiree can see and feel the effort you've put into selecting a meaningful gift. With same-day delivery, you can communicate your admiration and respect promptly, making the retiree feel truly valued and honoured.
Keeps the Element of Surprise
Surprises are an integral part of celebrating retirement. There's nothing quite like the look of delight on the retiree's face when they are caught off guard with a heartwarming gift. Gift baskets in Toronto with same-day delivery ensure that the element of surprise is preserved. Simply set the time and date, and the retiree won't even have time to anticipate its arrival, which adds an element of excitement and spontaneity to the celebration.
A Taste of Toronto's Finest
One of the unique aspects of retirement gift baskets in Toronto is that they can showcase the city's finest offerings. From artisanal chocolates to locally sourced wines, these baskets bring a taste of Toronto's culinary scene right to your doorstep.
Toronto gift baskets are not just ordinary gifts; it's an experience that allows the retiree to savour the flavours of the city they've called home for so long. Whether it's gourmet snacks, premium wines, or luxurious items, these baskets add a touch of sophistication and luxury to the retirement festivities.
Customization for a Personal Touch
Every retiree is unique, and their retirement gift should reflect their individuality. Toronto gift baskets excel in personalization, allowing you to tailor the contents to suit the retiree's preferences. Whether they have a sweet tooth, a connoisseur of fine cheeses, or prefer gourmet snacks, you can create a basket that resonates with their tastes. This personal touch elevates the gift, making it all the more meaningful.
In the whirlwind of planning retirement festivities, time is often of the essence. You might find yourself caught up in coordinating various aspects of the celebration, from invitations to decorations. Toronto Gift Baskets' same-day delivery service alleviates the stress of finding the perfect retirement gift in the midst of a busy schedule. You can efficiently select a gift basket that resonates with the retiree's tastes and have it delivered promptly, freeing up valuable time for other essential arrangements.
Retirement celebrations often involve multiple moving parts, from organizing the venue to coordinating with guests. Toronto gift baskets seamlessly integrate into this process, ensuring that the gift-giving aspect aligns smoothly with the overall celebration. With same-day delivery, you can flawlessly incorporate the gift presentation into the event, making the retiree's special day even more memorable.
Guests will appreciate the thoughtful and well-organized nature of the celebration, and the retiree will be pleasantly delighted with the gift basket being part of the festivities.
A Celebration of Diversity
Toronto is known for its cultural diversity, which is beautifully reflected in the variety of available gift baskets. Whether you want to celebrate retirement with a taste of international flavours or showcase the vibrant arts and culture scene, there's a gift basket that fits every theme. This design flexibility allows you to create a present that resonates with the retiree's heritage, passions, and interests.
Retirement is often synonymous with relaxation and leisure, a well-deserved respite after years of work. Gift baskets present a delightful array of options that nudge the retiree to fully embrace this newfound tranquillity. Among these options, spa-themed baskets brimming with luxurious bath products offer a serene escape. Additionally, baskets featuring cozy blankets and captivating books encourage the retiree to luxuriate in the little things in life. These thoughtful gifts provide the retiree with the ideal excuse to slow down, unwind, and savour the pleasures of retirement.
Thoughtful Gestures to Mark a New Beginning
Retirement is the beginning of a new chapter in one's life, and a time to explore new interests, hobbies, and adventures. Toronto gift baskets offer the unique opportunity to customize gifts, making them perfect for retirees entering a new phase of life. A gardening-themed basket caters to the retiree with a green thumb, nurturing their love for nature and growth. Alternatively, an art supplies basket empowers those seeking creative exploration in retirement.
These thoughtful selections express a profound message that the celebration isn't just about remembering the past but also about eagerly supporting and nurturing the retiree's future pursuits.
Retirement often means more time for family and friends. Celebrating this milestone with Toronto gift baskets can also serve as an opportunity to strengthen bonds. You can gather loved ones for a retirement party or an intimate get-together and use these beautifully crafted gift baskets as a centrepiece for the celebration. Sharing the contents and stories behind the items can create cherished memories and reinforce the importance of connections in retirement.
Last-Minute Thoughtfulness
Life has a way of surprising us, and sometimes, retirement announcements are made at the last minute. Whether it's a sudden decision to retire or a change in plans, Toronto gift basket same-day delivery allows you to be wonderfully thoughtful, even when time is limited. It's a testament to your ability to respond swiftly and considerately to the retiree's decision, making them feel valued and cherished.
Retirement is a milestone worth celebrating in grand style, and Toronto gift baskets with same-day delivery provide the perfect means to do so. With customization, convenience, and a diverse range of options, you can make this transition truly special for the retiree. Remember that retirement is not just an end but a new beginning. It's an opportunity to cherish the past, enjoy the present, and look forward to a future filled with endless possibilities.
When celebrating retirement, Toronto gift baskets with same-day delivery services offer a host of benefits that go beyond mere convenience. They embody the spirit of spontaneity, thoughtfulness, and gratitude into the celebration. Whether you're the retiree or the one joining the celebration, these gift baskets are a reminder that retirement is simply the start of a beautiful new chapter waiting to be written.
Celebrate retirement with Alexandria Gift Baskets in Toronto. Visit our website or call us at (416) 666-8361 to place your order and enjoy same-day delivery within Ontario.