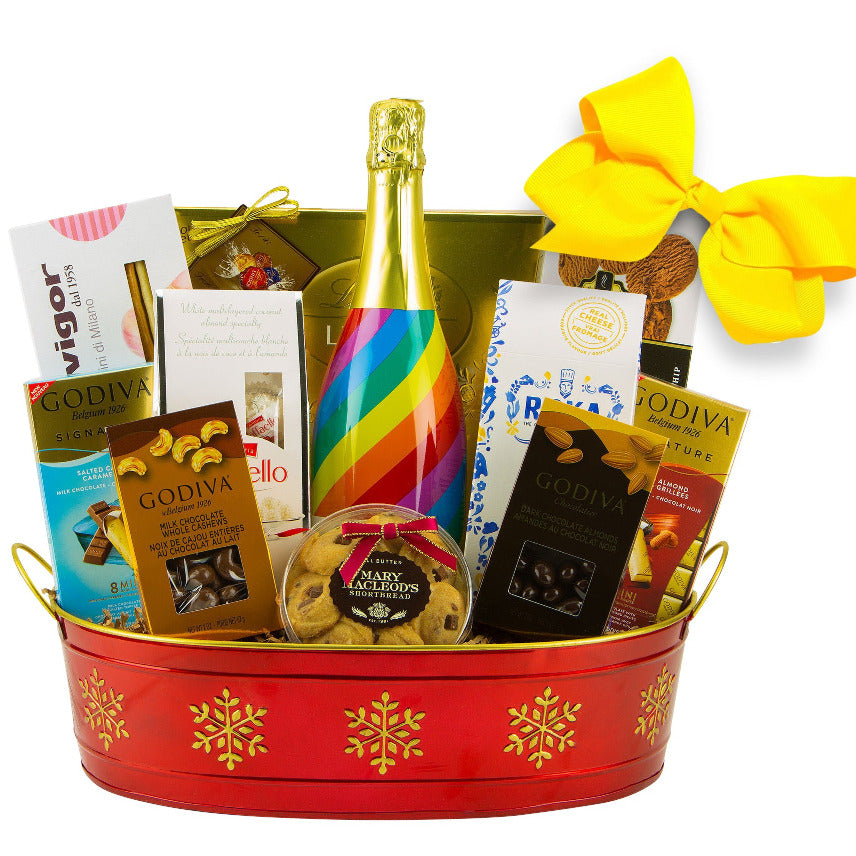 When it comes to gift-giving, few things can match the elegance and thoughtfulness of a luxury gift basket. Gift baskets are a versatile and personal way to show appreciation, love, or congratulations to someone special. If you're looking to create a memorable gift, especially in Toronto's vibrant and diverse city, you're in the right place. This article will guide you through creating luxury gift baskets in Toronto that will leave a lasting impression.
Why Choose Luxury Gift Baskets in Toronto
Toronto, known for its cosmopolitan culture and diverse population, offers abundant gift-giving opportunities. Whether you're celebrating a birthday, a wedding, a corporate achievement, or want to express your gratitude, a luxury gift basket is a perfect choice. Here's why you should consider them:
1. Personalization
You can customize luxury gift baskets in Toronto to suit the recipient's taste and preferences. This personal touch shows your thoughtfulness and consideration.
2. Local Flair
Toronto has a rich culinary scene, and you can infuse local flavour and charm into your gift baskets. Including products from local artisans and businesses can make your gift truly unique.
3. Uniqueness
Unlike conventional gifts, gift baskets offer a variety of items that cater to different senses and experiences, making them stand out as thoughtful and memorable presents.
Now, let's delve into the steps to create a luxury gift basket in Toronto that will leave a lasting impression.
1. Define the Occasion and Recipient
Before assembling your gift basket, it's crucial to identify the occasion and the recipient's preferences. Are you celebrating a special anniversary, a birthday, or a corporate event? Knowing the occasion will help you choose appropriate items in the basket.
Consider the recipient's tastes, hobbies, and interests. Do they enjoy gourmet food, fine wine, spa treatments, or artisanal chocolates? Understanding their preferences will guide your selection of items and make the gift more meaningful.
2. Choose a Theme
Selecting a theme for your luxury gift basket can add a creative and cohesive touch to your gift. In Toronto, you have a wide range of themes to choose from:
Fill your basket with locally sourced gourmet foods, wines, cheeses, and chocolates from Toronto's finest artisanal producers.
Create a relaxing spa experience with bath salts, scented candles, luxurious towels, and skincare products from Toronto-based beauty brands.
Showcase the city's local artisans by including their handmade crafts, jewelry, or unique art pieces in the gift basket.
Assemble a family-oriented basket with board games, movie tickets, and snacks to encourage quality time together.
 Promote well-being by including organic teas, yoga accessories, and wellness products from Toronto's health-focused businesses.
3. Gather High-Quality Items
The key to creating a luxurious gift basket is selecting high-quality items that align with your chosen theme. In Toronto, you have access to an array of exceptional products. Here are some ideas for things to include:
Toronto boasts an incredible food scene. Add locally sourced delicacies like artisanal cheeses, smoked meats, jams, and honey.
Visit one of Toronto's renowned wine shops to select a bottle of fine wine or craft spirits to include in your basket.
Toronto is home to exceptional chocolatiers. Handcrafted chocolates and truffles make for a sweet addition.
Explore Toronto's craft markets and include unique handcrafted items such as pottery, candles, or jewelry.
Beauty and Skincare Products
Toronto has a thriving beauty industry. Include skincare products, fragrances, or makeup from local beauty brands.
Add tickets to a popular Toronto event, a spa day, or a gourmet cooking class for an experiential touch.
4. Select the Perfect Basket
The choice of the basket itself is essential to the overall presentation. Look for a high-quality basket or container that complements your theme and items. You can find a variety of baskets, from rustic to elegant, in Toronto's specialty stores or online retailers. Additionally, consider lining the basket with tissue paper or decorative fabric that matches the theme and colour scheme.
5. Arrange and Decorate
Arranging the items in an aesthetically pleasing manner is the final step in creating your luxury gift basket in Toronto. Here are some tips for organizing and decorating your gift basket:
Start with a base layer, such as crumpled tissue paper, to elevate the items in the basket. Place the more oversized items in the back and the smaller items in the front for a balanced look.
Pay attention to the colour scheme of the items and use coordinating ribbons, bows, or tags to tie everything together.
Include a heartfelt handwritten note to express your sentiments and make the gift more personal.
Consider adding a touch of greenery, such as fresh herbs or small potted plants, enhancing the visual appeal of the gift.
Don't forget to wrap the entire basket in cellophane or clear plastic wrap to protect the contents and keep everything in place. Finish with a decorative bow or ribbon.
3 Luxury Gift Baskets in Toronto You Can Create
Now that you better understand how to create a luxury gift basket in Toronto, let's explore three specific gift basket ideas that are perfect for various occasions in the city.
1. The Toronto Foodie Basket
Theme: Gourmet Delights
Contents:
Assortment of local cheeses from Cheese Boutique
Toronto-made artisanal chocolates from SOMA Chocolate Maker
A bottle of Ontario VQA wine from the Niagara region
Locally sourced gourmet crackers and preserves
A gift certificate to a trendy Toronto restaurant for a future dining experience
Basket: A rustic wooden crate or a stylish cheese board
Decor: Use earthy tones and a burlap ribbon to accentuate the gourmet theme
2. The Toronto Spa Escape Basket
Theme: Spa Retreat
Contents:
Luxury bath salts and essential oils from Toronto-based Province Apothecary
Hand-poured scented candles from Toronto's own Woodlot
Plush bathrobes and towels
A gift certificate for a spa day at a renowned Toronto spa
Basket: A wicker or woven basket that exudes relaxation
Decor: Soft pastel colours and a satin ribbon for an elegant touch
3. The Artisanal Toronto Showcase Basket
Theme: Artisanal Toronto
Contents:
Handcrafted pottery from a local Toronto artist
Artisanal jewelry from a Toronto boutique
A selection of unique Toronto-themed prints and postcards
Locally made gourmet treats like small-batch jams and maple syrup
Basket: A trendy, urban-inspired tote bag or a wooden crate
Decor: Incorporate Toronto's iconic skyline or street art motifs in the packaging
Where to Find Gift Basket Supplies in Toronto
The city's abundance of specialty stores and local businesses make creating a luxury gift basket in Toronto easier. Here are some places to find supplies:
1. St. Lawrence Market
This historic market is a treasure trove of gourmet foods, artisanal products, and unique finds perfect for gift baskets.
2. Yorkville Village
This upscale shopping destination in Toronto has various boutiques, including luxury brands, artisanal shops, and spa-related stores.
3. Etsy Toronto
Explore the local artisans and crafters on Etsy who offer a wide range of handmade and personalized items for your gift baskets.
4. Wine Shops
Toronto has numerous wine shops and liquor stores where you can find a selection of fine wines and spirits to include in your baskets.
5. Toronto Farmers' Markets
Check out the city's farmers' markets, such as the Evergreen Brick Works Farmers Market, for fresh, locally sourced ingredients and artisanal products.
Creating luxury gift baskets in Toronto is a delightful and thoughtful way to celebrate special occasions or show appreciation to loved ones. Whether you're celebrating a milestone, expressing gratitude, or simply spreading joy, a luxury gift basket is a gesture that will always be cherished. So, the next time you're looking for the perfect gift in Toronto, consider creating a luxurious gift basket tailored to the tastes and interests of your recipient. It's a beautiful way to celebrate the vibrant spirit of this diverse and dynamic city. Incorporating local flair, high-quality products, and a touch of creativity, you can make gift-giving an unforgettable experience. Gift baskets in Toronto offer a world of possibilities to express your sentiments and create lasting memories.