Easter is one of the most memorable holidays we get to spend with our loved ones since our younger years. Christians are not the only ones who celebrate Easter. Everyone, regardless of religion, is free to join the festivity.
What makes this holiday popular is its tradition of Easter gift basket giving. Children receive beautifully designed gift baskets with assorted goodies, such as colourful candies, chocolate eggs, small toys, and other fun treats. Children always look forward to receiving Easter gift baskets from their parents, grandparents, and relatives. However, giving Easter gift baskets is not only for children. Sending personalized Easter gift baskets in Toronto has also become popular among adults.
Origin of Easter Gift Baskets
Easter was known as the spring equinox to ancient cultures—the period between seasons when the day and night have an equal number of hours. During the Easter season, farmers look forward to the transition from dark winter days to sunny spring days, praying to their pantheon for an abundant harvest. They also include prayers for Eostre, the Anglo-Saxon goddess of spring and fertility.
According to the 8th-century manuscript, The Reckoning of Time, early human civilizations celebrated feasts in honour of Eostre, a pagan fertility goddess of humans and crops who cradled a woven basket in the crook of her arm. This commenced the beginning of the tradition of Easter baskets.
The Evolution of Easter Gift Baskets
Easter gift basket giving has evolved over the years, with people incorporating new gift selections and basket designs. However, Easter eggs with elaborate designs remain the main highlight of the Easter basket tradition in countries like Russia and Ukraine. Other countries, like the United States, associate the Easter Bunny with delivering gift baskets full of treats to children.
Today, adults too can receive and enjoy gift baskets from their loved ones. The practice of giving adults Easter gift baskets in Toronto has become increasingly popular. Now, many local shops in Toronto offer pre-made Easter gift baskets designed for people who are young at heart.
Easter Gift Basket Ideas for Both Kids and Adults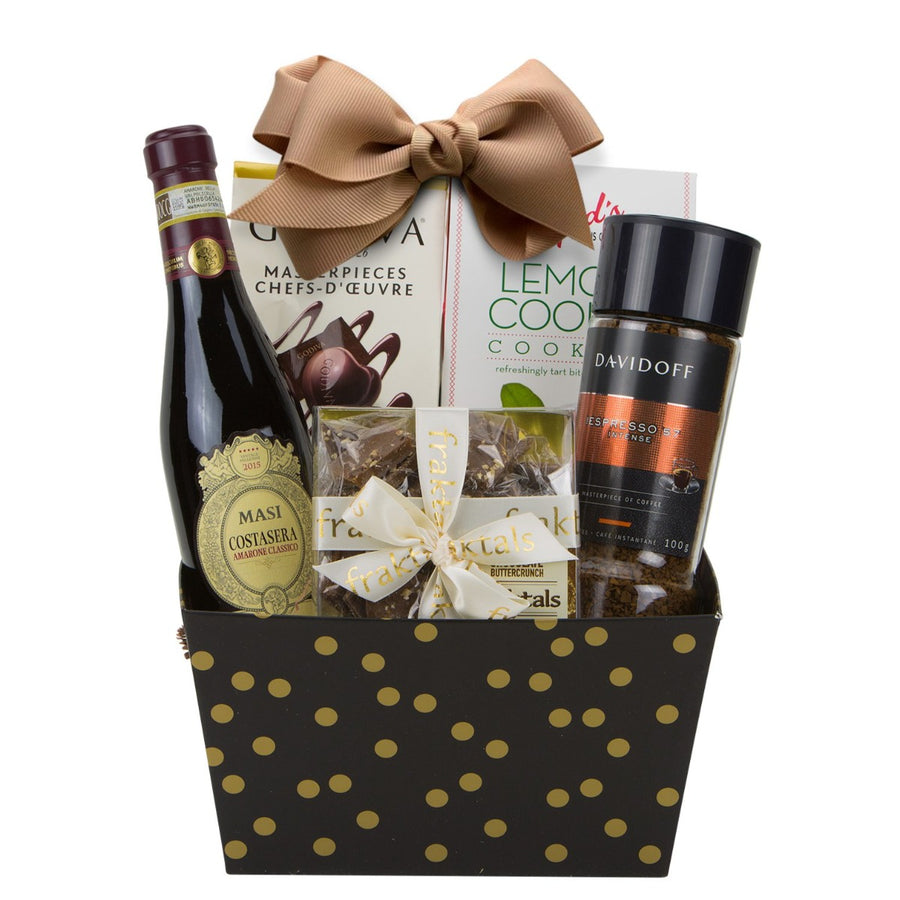 This Easter, make gifting a breeze with baskets catering to kids and adults. Whether you're looking to surprise your little ones or delight your grown-up friends and family, these basket ideas have got you covered. Here are some thoughtfully curated options:
Springtime Treats
Fill your baskets with an assortment of pastel-coloured candies, chocolates, and jellybeans. For kids, include fun-shaped marshmallows and candy eggs. Adults might appreciate gourmet chocolates or artisanal sweets.
Crafty Creations
Encourage creativity with craft-themed baskets. Include colouring books, coloured pencils, stickers, and craft kits for kids. For adults, consider DIY candle-making kits, adult colouring books, or knitting supplies.
Outdoor Adventure
Get everyone excited about outdoor activities. For kids, pack in bubbles, jump ropes, and small toys for playtime fun. Adults might enjoy a picnic-themed basket with a cozy blanket, gourmet snacks, and a frisbee.
Spa Relaxation
Create a spa-like experience at home. Include bath bombs, scented candles, face masks, and soothing lotions. For adults, you can add a bottle of wine or champagne.
Gardening Delights
Foster a love for nature with gardening-themed baskets. Kids can have mini gardening tools, seed packets, and small potted plants. Adults might appreciate high-quality gardening gloves, heirloom seeds, and a gardening book.
Book Lovers' Paradise
For the bookworms, consider age-appropriate books in the baskets. Kids' baskets could have colourful picture books, while adults might enjoy bestselling novels or non-fiction reads.
Movie Night Magic
Craft movie-themed baskets with popcorn, candy, and a family-friendly DVD for kids. Adults can have gourmet popcorn, a bottle of wine, and a classic film.
Puzzle Galore
Encourage brain-teasing fun with puzzles and games. Kids' baskets could feature age-appropriate puzzles and board games, while adults might enjoy challenging jigsaw puzzles or trivia games.
Fitness Boost
Promote a healthy lifestyle with fitness-inspired baskets. Kids can get active with jump ropes and small sports equipment. Consider resistance bands, a water bottle, and healthy snacks for adults.
Personalized Keepsakes
Add a personal touch with custom-made items. Kids might love monogrammed items like water bottles or plush toys. Adults could receive engraved keychains, mugs, or photo frames.
No matter the age, these Easter gift baskets are sure to bring joy and excitement to your loved ones. Tailor the contents to their interests and preferences, and let the holiday celebrations begin!
The Convenience of Same-Day Gift Basket Delivery in Toronto
When gifting, efficiency and timeliness matter. Gift Basket Toronto's same-day delivery service brings you the ultimate convenience for special occasions. Here's why opting for same-day delivery is a smart choice:
Instant Gratification
With same-day delivery, your gift baskets can reach your recipients on the day you order them. No waiting, no delays — just instant joy.
Last-Minute Surprises
Forgot an important occasion? Swift shipment services got your back. You can still show your thoughtfulness with a well-curated gift basket, even at the last minute.
Express Affection
Life is fast-paced, and sometimes,  it's important to communicate your feelings right away. Fast delivery services allow you to convey your emotions without delay.
Spontaneous Gestures
Seize the moment and surprise someone spontaneously. Whether it is a birthday, anniversary, or a simple "thinking of you," local shops offering same-day delivery services in Toronto make your gestures feel even more genuine.
Busy Schedules
Juggling responsibilities? Gift baskets in Toronto same-day delivery is tailor-made for those busy days when you can't spare a minute. Your gift baskets arrive precisely when you need them to.
Impromptu Celebrations
Life is full of unexpected celebrations. Whether it is a promotion, a small victory, or a new milestone, you can celebrate these moments instantly with a well-chosen gift.
Reduced Stress
Planning ahead is not always feasible. Same-day delivery eliminates the stress of coordinating in advance, making your gifting experience hassle-free.
Thoughtful Flexibility
You can be the one to bring surprises when life throws them your way.
Same-day delivery services of gift baskets in Toronto give you the flexibility to be thoughtful whenever the occasion arises.
Personal Touch
Even with a short timeframe, local shops in Toronto ensure your gift baskets are curated with care and attention to detail, adding a personal touch to your gesture.
Enhanced Relationships
Prompt gift-giving shows your loved ones that they are a priority in your life. Strengthen your relationships by showing you're there for them, no matter the timeline.
Embrace the Easter spirit, grab your wicker basket, and get ready for a day filled with egg-themed activities! If you want to spread Easter joy to your loved ones, there is no better way to celebrate than with a fabulous gift basket in Toronto.
Want to share the Easter excitement with your close friends and family across Ontario? Alexandria Gifts provides Easter gift basket delivery all over the province, including Toronto. We will ensure it reaches their doorstep right on Easter Sunday. Share delightful treats with your favourite people in Toronto, enjoy complimentary gift baskets in Toronto same-day delivery services, and ensure your heartfelt wishes are delivered perfectly. Give us a call at (416) 666-8361, or submit our contact form to reach our team of gift basket specialists.