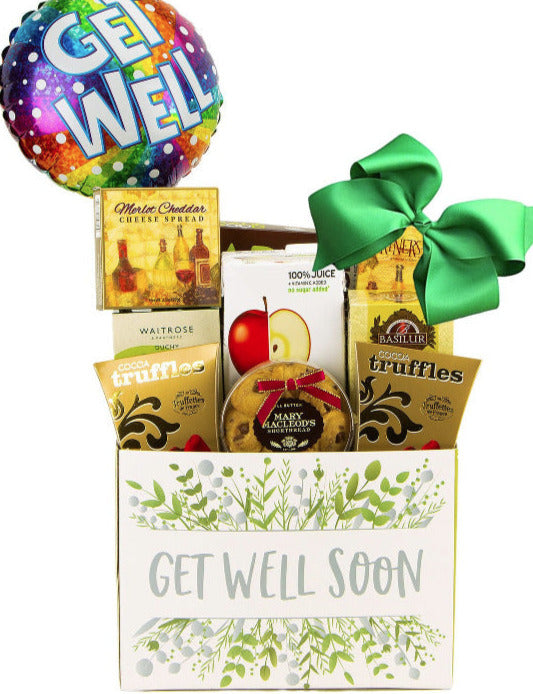 Life is not always a walk in the park, and it is always nice to show one another care and support during difficult times like sickness. When visiting them in person is not an option, sending them a get-well gift basket can help lift their spirit.
What is a Get-Well Gift Basket?
A get-well gift basket is a perfect present for anyone who needs support and comfort. As the name suggests, it is full of items that provide comfort and support to someone going through a rough patch.
A heartwarming care basket is perfect for anyone who is:
Recovering from surgery
Experiencing some type of loss or grief
Taking a break from work due to sickness or injury
Undergoing treatment or rehabilitation for an injury
Struggling with a mental health issue, such as depression or anxiety
Fighting off flu
Receiving a healthy gift basket in Toronto packed with nourishing treats, nutritious gourmet foods, vitamins, and other soothing stuff can help cheer up your loved one. If you are unsure what to include in your get-well-soon care basket, simply put yourself in the recipient's shoes—what would you want to receive if you were in their situation? This will help you come up with helpful ideas that will aid in their fast recovery.
What to Include in a Get-Well Gift Basket
If you are planning to send a care basket for a good friend, family member, or colleague, you may have wondered what items to include in the package. To help you get started, we have rounded different gift ideas to put into your get-well basket.
Delectable baked goods (cookies, bread rolls, pie)
Tea
Healthy snacks
Flowers
Care products (face masks, moisturizing lotion, lip balm, shovel gel)
Cozy blanket 
Comfy robe or pyjama
Scented candles that induce a sense of calm and relief (lavender, peppermint, chamomile)
Books and magazines
Flowers
Uplifting your loved one's spirit by sending a gift thoughtfully prepared can go a long way in making their recovery process more pleasant. When creating the perfect care basket, simply include items designed to provide comfort and brighten up someone's day.
Post-Surgery Get-Well Gift Basket
Going through surgery is never easy, no matter how simple or complicated the procedure is. In some cases, the recovery process can be difficult. Offering them plenty of support is crucial for their recovery. Sending a get-well gift basket from Toronto can uplift their spirit, knowing that someone cares for them.
While the thought of sending a care basket to a loved one can be heartwarming, you need to ensure they receive the gift on time. For instance, if you need more time to visit them and give your gift in person, purchasing a beautifully prepared, personalized feel-good-soon gift basket from a local shop that offers same-day gift basket Toronto delivery services is an ideal option.
How to Personalize Gift Baskets for Loved Ones
When a dear one falls ill, showing your care and support is paramount. One heartfelt gesture is to create personalized recovery gift baskets that bring comfort and show that you are thinking of them.
Here are some simple yet impactful steps to create recovery gift baskets tailored to your loved one's needs, preferences, and well-being.
Start by understanding your loved one's likes, dislikes, and dietary restrictions. Knowing their favourite snacks, drinks, or activities can help you curate a basket that resonates with their tastes.
Choose items that provide comfort during their recovery. Soft blankets, cozy socks, or a soothing aromatherapy candle can create a warm and peaceful environment for your loved one.
Sending books, puzzles, or movie collections can keep them entertained during their recovery period. These forms of entertainment can be an effective distraction, keeping boredom at bay.
Healthy snacks and treats can help boost immunity, speeding up recovery. Consider including herbal teas, healthy snacks, or a jar of homemade soup to provide nourishment and comfort.
Sending personalized heartfelt messages along with the care basket helps let them know that you care and support them. A few kind words can have a significant impact on their emotional well-being.
Think about items that could be helpful during their recovery. Tissues, hand sanitizers, lip balm, or a cozy neck pillow can make their experience more comfortable.
Customize Based on Their Recovery Stage
Tailor the contents of the gift basket to their recovery stage. Practical items like a travel-sized toiletry kit or a cozy blanket can be helpful if they are in the hospital. If they are recovering at home, focus on things that enhance their relaxation and well-being.
Adding a personal touch can make the gift basket even more special. Handmade crafts, photo albums of cherished memories, or playlists of their favourite songs can demonstrate your thoughtfulness.
When delivering the gift basket, ensure it is presented with care. A warm smile and a few moments to chat can make the moment more meaningful and reassuring for your loved one.
Respect their space and preferences. Some individuals may appreciate a visit, while others might prefer a simple drop-off to rest peacefully. Gauge their comfort level and act accordingly.
Recovery is a process that takes time. Show ongoing support by checking in, sending occasional messages, or offering help with daily tasks as they regain their strength.
The Convenience of Gift Basket Toronto Delivery Services
Sending gift baskets in Toronto has never been easier, offering a convenient way to brighten someone's day. Discover the simplicity and joy of gifting with effortless delivery:
Skip the hassle of shopping and packaging. With Toronto gift basket delivery, you can effortlessly send thoughtful presents from the comfort of your home.
Choose from a variety of curated gift baskets to suit any occasion — from birthdays to celebrations. Find the perfect fit without scouring stores.
Avoid the time-consuming process of assembling and wrapping gifts. With delivery services, your heartfelt gesture is just a few clicks away.
Show you care, even from afar. Let your loved ones know they're in your thoughts with a beautifully arranged gift basket at their doorstep.
Tailor your gift to the recipient's interests, whether gourmet treats, spa indulgence, or a mix of delightful goodies.
Experience the convenience of gift baskets in Toronto delivery services, making every occasion a moment of joy and connection.
If someone you know feels a bit low, express your care and gratitude with our gift baskets in Toronto. Alexandria Gift Baskets offers a range of thoughtfully selected gift baskets containing delicious treats and healthy items. These gifts are a way to let them know you are keeping them in mind.
Check out our wide variety of get-well gift baskets. We are here to uplift someone who's not feeling their best with our handcrafted presents made to make them smile. Call us today at (416) 666-8361, or submit our contact form to let us know your message.