We've all encountered the challenge of shopping for gifts, especially if it's not your strong suit or you lack the time to visit various stores in person. While gift cards and cash are convenient options, they often lack the unique and special touch that makes a gift truly memorable. Why not create a personalized gift basket instead of a run-of-the-mill and predictable gift? Gift baskets are carefully curated collections of various items, thoughtfully arranged in a single package, making them an excellent choice for any individual and occasion – and you can even arrange for gift baskets to be delivered in Toronto! 
If you find this concept appealing but are unsure how to proceed, we've put together a comprehensive guide on crafting the perfect gift basket for any occasion, showing you care.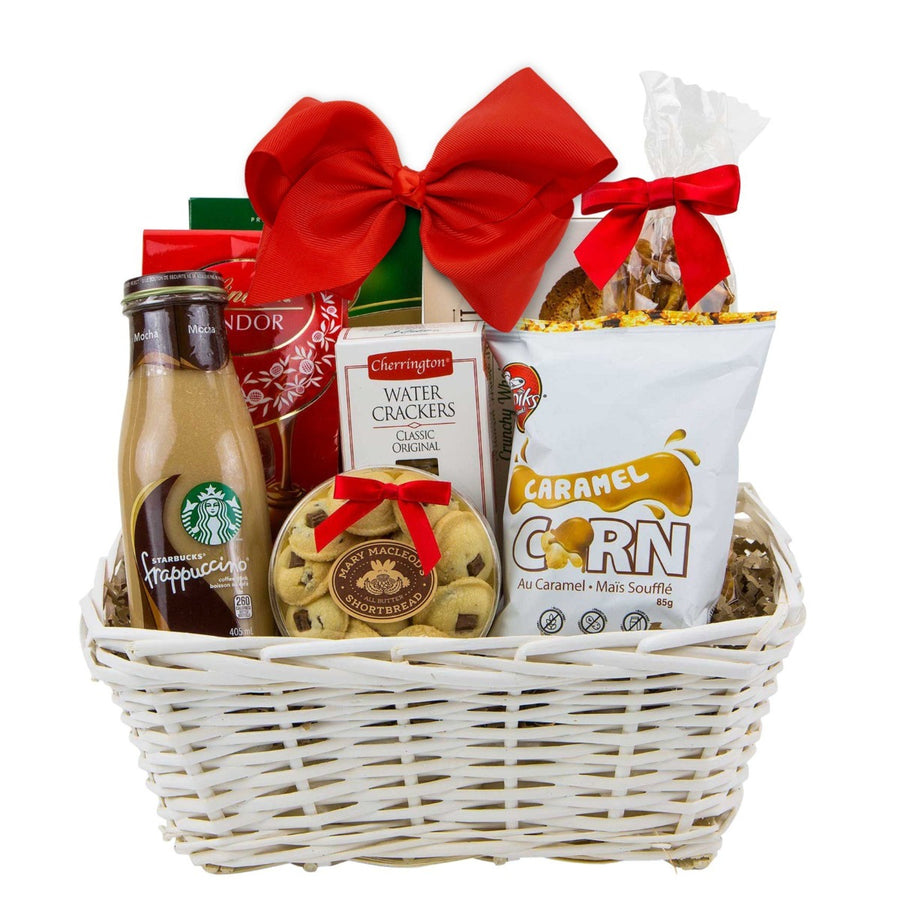 When you're in the process of creating the ideal gift basket for any event, it's crucial to take into consideration the nature of the occasion. Whether it's a festive holiday celebration, a special milestone event, or a compassionate gesture during times of illness or sorrow, the specific occasion can provide valuable guidance for selecting the contents and presentation of the gift basket. If you're putting together a gift basket for Valentine's Day, Mother's or Father's Day, or to welcome a new addition to the family, it's wise to include items that cater to the recipient's preferences, like a Coffee Lovers Gift Basket. Conversely, it's thoughtful to have practical things that the recipient can use for more sombre occasions like bereavement, illness, or significant life transitions. Incorporating personal touches like photographs, notebooks, and heartfelt cards can effectively convey your care and support.
Selecting Your Gift Basket's Theme
In addition to considering the occasion, there are numerous themes to choose from when creating your gift basket. Your chosen theme adds a personal touch that resonates with the recipient, making it an even more meaningful gesture. Aligning the theme with the recipient's interests is a considerate approach, allowing you to select items corresponding to that theme seamlessly. For instance, you could center your theme around their hobbies, such as sports, music, fitness, cooking, reading, home improvement, arts and crafts, or other pursuits. Feel free to fill the gift basket with memorabilia, books, toys, tools, cards, and other relevant items. The more thought and care you invest in selecting the theme, the more impactful your gift basket will be for its intended recipient.
Thinking About the Recipient
Once you've established the theme, it's essential to consider whether the gift basket's contents align with the recipient's lifestyle and preferences. Remember that some individuals may have food allergies, dietary restrictions, or particular culinary tastes. Considering these factors can help you make a more informed selection of potential items that cater to these specific requirements. While it's easy to go with a generic gift basket filled with the traditional fruit and wine often associated with the holiday season, the true essence of gift-giving lies in going beyond the ordinary.
When creating the perfect gift basket for delivery in Toronto, the initial question that should come to mind is: What should be included in it? The items in the basket constitute its essence and character. They can evoke cherished memories or simply creative and enjoyable gadgets, snacks, and other miscellaneous items. Many individuals find that selecting a theme or choosing things related to the special occasion can streamline the decision-making process regarding what to include. This approach allows you to focus less on item selection and more on the presentation and style of the gift basket itself.
Deciding on the Right Basket or Container
After you've decided on the items to include in your gift basket, the next step involves selecting the container that will house your chosen items. While wicker baskets are popular due to their durability, aesthetic appeal, and ability to hold items in place securely, there are some critical considerations. An ideal wicker basket should have handles for easy transport, particularly when arranging gift basket delivery in Toronto. Additionally, look for options with lids and latches, as these can further enhance the safety and security of the items within the basket. Many wicker baskets even come in pre-designed decorative styles tailored explicitly for use as gift baskets. However, it's essential to exercise caution here; if the basket is purely decorative, it may lack the necessary structural integrity to support and secure all the items effectively. Ensure that the wicker basket you choose offers the required stability and surface area to prevent things from shifting or tipping over when the basket is placed down.
It's worth noting that wicker baskets are not your only option for gift containers. The term 'gift basket' should not limit your choice of the primary container. Tote bags, for instance, offer a viable alternative. They are sturdy, versatile, and capable of supporting the items you intend to include. Tote bags come equipped with handles that provide exceptional carrying capacity and stability.
Moreover, they are available in various designs and styles to suit your preferences. Regardless of your choice, whether it's a wicker basket or a tote bag, it's advisable to finalize your item selection first. Then, base your container choice on the item's size, weight, and fragility. Be particularly cautious when transporting baskets containing glass items to prevent breakage.
Arranging a gift basket requires patience, creativity, and a strategic approach. Begin by placing the larger and heavier items toward the back of the basket. Smaller items should be positioned toward the front, allowing each item to be prominently displayed without the risk of compression. Tissue paper can help secure the items and reduce the potential for breakage. Feel free to experiment with the arrangement until you achieve the desired visual appeal. If necessary, you can use tape, glue, or adhesive dots to help maintain the positioning of the items.
Paying Attention to Presentation and Packaging
Last but not least, keep in mind how important presentation is. It's the recipient's initial impression upon receiving the gift basket. When it comes to wrapping your gift basket, cellophane wrap is highly recommended. It's a flexible wrapping material that works for every event. The best part is that cellophane wrap is available in many colours and sizes.
Consider adding a decorative ribbon to enhance your gift basket's appearance. When wrapping the basket, follow these steps for a secure finish. Start by carefully placing the gift basket in the wrapping material's center. Double-check the basket's contents to make sure everything is in the right place. No matter the size of the basket, it is advisable to cut more wrapping material than you initially require; you can trim any extra afterwards. When you have enough wrapping material, collect all the sides and secure them just above the handle or the tallest piece. Then, to hold everything in place, wrap a ribbon around the gathered area. Additional details like fanning the cellophane or adding a lovely ribbon can be a final touch. To stop little objects from slipping out of apertures, you can tape them shut.
Indeed, crafting personalized gift baskets can be time-consuming, and not everyone has the time for this endeavour. That's where Alexandria Gifts steps in as the perfect solution for effortlessly creating your own customized gift box or care package. We offer all the necessary elements to curate and send a personalized gift basket. Browse our gift boxes, baskets, and customized totes, and effortlessly include any of our exceptional products. We also provide the convenience of gift basket delivery in Toronto for your added convenience!