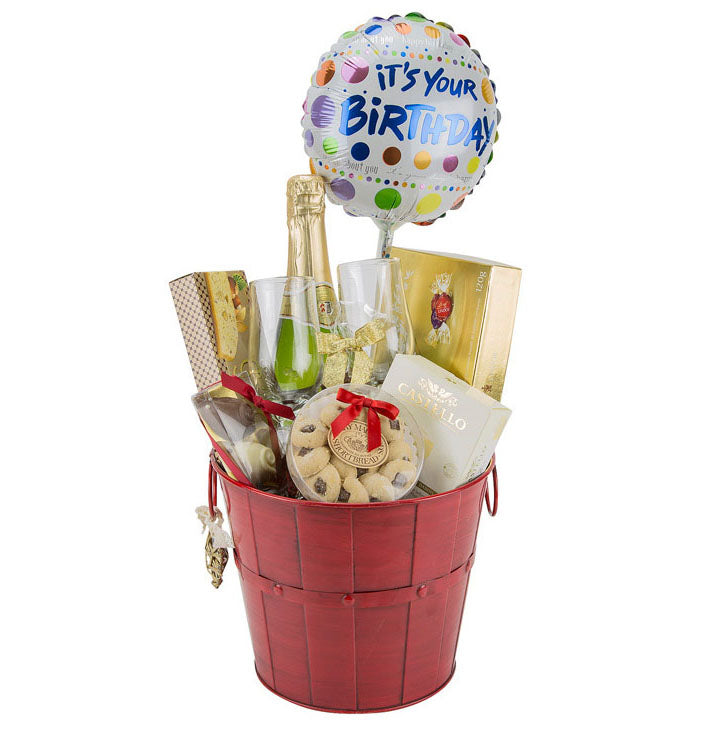 Many people say that age is just a number. Whether the person is celebrating his 5th birthday or coming of age, birthdays are special moments and a perfect opportunity to show their value and make them feel cherished.
For instance, a friend who volunteered to walk your dog on the weekdays is about to celebrate their birthday. Sending them a surprise birthday gift basket as a token of appreciation can make them feel special and valued.
What makes gift baskets in Toronto is that they are great for any age. You can personalize their content to ensure they suit the age and preferences of the recipient. For example, you can send a basketful of skin care products for elders, enticing gourmet food and wine for adults, and chocolates and toys for children. If the recipient is health-conscious, you can send them a birthday gift basket filled with healthy snacks or treats.
Whether you choose the DIY or buy from a trusted Toronto local gift shop, we have some tips to help you wrap everything in a snap!
Why Gift Baskets Are Perfect for Birthdays
While you can have a single item as a birthday gift, there are plenty of reasons why gift baskets make the best birthday present.
A variety of gift items in a single basket
A gift basket allows you to add several presents in a single basket. A basket filled with all the recipient's favourites is a great way to show how much you care about them while ensuring that they will love every bit of their gift basket.
Impactful Presentation
Whether delivered or personally handed, gift baskets can make the recipient's day even more special. Gift baskets are expertly wrapped gift baskets full of goodies that can add to the excitement and anticipation of the recipient.
Save You Time
Sometimes, we do not just have the luxury of time to plan the perfect basket for our loved ones. Thankfully, local shops, like Alexandria Gift Baskets, offer gift baskets delivery in Toronto. You can simply contact them, choose the items to include in the gift basket (and a birthday message) and input the shipping address and your payment information.
More Economical
Gift baskets are more cost-effective than buying several individual presents. It allows you to mix various goodies in a single basket, helping you save time and money, especially if you have a limited budget.
More Memorable
Gift baskets, like those for birthdays, last longer than separate gifts. With a variety of items inside, the person getting the basket will remember it for a really long time. They will recall the type of gift you gave them each time they use or enjoy something from the basket.
Deliver Anywhere
Having a sturdy and portable basket that you can take anywhere eliminates worries about spoiling the surprise. What's great about gift baskets is that you can send them to any location. Plus, they're easy to transport. Let the gift basket delivery service know where you want the gift to go.
Planning the Birthday Gift Basket Surprise 
Ready to get started? Here are several tips to help you curate the perfect birthday gift basket that will surely bring joy to the recipient.
Planning the Perfect Surprise
Before anything else, it is essential to plan carefully. Consider the person you are celebrating. Discover their interests, hobbies, and favourites. What theme best resonates with them – whether it is gourmet treats, spa indulgence, or a collection of their hobbies? Set a budget for your surprise. Remember, gift-giving is not how much you spend but the thought and effect your put into it.
Choosing the Right Gift Basket Contents
Think about what items to include to delight your recipient—snacks, drinks, or pampering products. Incorporating elements that align with their preferences creates a gift basket that feels personalized just for them.
Explore different categories of items, such as gourmet delicacies, wellness products, or items related to their hobbies. This selection process adds a layer of personalization to the surprise.
Personalizing the Gift Basket
Gift baskets speak volumes. However, adding a personal touch, such as handwritten notes and photographs that hold sentimental value, can work miracles to create great impressions. Customizing gift baskets ensure they resonate with the personality of the recipient.
Finding the Right Gift Basket Delivery Service in Toronto
Finding a trustworthy gift basket delivery service is essential for the success of your surprise. While there are plenty of options in Toronto, choose a service provider known for its credibility and solid reputation. Reading customer reviews and visiting forums can help you gain insights and make an informed decision.
Also, consider the timeliness of their services. Be sure that they offer secure and on-time delivery so they will not spoil the surprise.
Placing the Order
Once you have selected the perfect items for the gift basket and identified a reliable delivery service, it is time to place your order. Navigate the website of the service provider to ensure you understand the ordering process and options available. Choose the desired delivery date and time, keeping in mind the recipient's schedule and any potential surprises you may have planned around the delivery.
Anticipation and Excitement
Some service providers offer tracking options to enable customers to monitor the delivery progress. Secretly know the schedule of the gift basket recipient so they can receive the surprise in time. It can be challenging to maintain the element of the surprise, but it is all part of the fun!
The Big Surprise
When the moment has arrived, ensure that the recipient is ready to receive the surprise gift basket. Coordinate with the delivery service to avoid any timing mishaps. As the gift is unveiled, relish their genuine surprise and happiness. It is a heartwarming moment that validates your efforts and showcases the power of a well-executed surprise.
Sending a surprise birthday gift basket in Toronto is a beautiful way to show your love, appreciation, and thoughtfulness. By carefully planning, selecting meaningful items, and choosing a reliable delivery service provider, you can create a moment of pure delight for the recipient. The happiness you bring will not only be felt on their special day but will resonate in their heart for years to come. Embrace the magic of surprises and the connection they foster—it is a gift that keeps giving.
At Alexandria Gift Baskets, you'll discover a remarkable assortment of elegant and one-of-a-kind birthday gift baskets in Toronto, Ontario. Our selection caters to all ages, ensuring a fitting gift for each person. From delightful combinations of aromatic wine and champagne that set the tone for adult celebrations to delectable sweet treats tailor-made for the younger crowd, there's a little something that everyone will relish.
Send your gift with the convenience of complimentary same-day birthday basket delivery within Toronto. Also, we extend the same-day delivery privilege across Ontario, coupled with competitive shipping rates. Give us a call today at (416) 666-8361, or submit our contact form to send us your message.